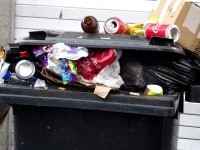 Residents are responsible for disposing of rubbish in the bins which have been provided by Dundee City Council. You can check when your bin is due for collection by entering your postcode here.
On some schemes the local authority provides individual wheelie bins for each property.  On larger schemes of flats, paladin bins are provided for communal use.  Please make sure that all rubbish is placed completely in the bins.  If the bin is full, do not leave at the side of the bin as even though you may have bagged it, this is an easy target for seagulls and the local authority will not remove rubbish left outside of bins.
You can report street cleansing issues here.
If you want to dispose of larger items such as kitchen appliances, sofas or mattresses, it is up to you to arrange for them to be collected.  Please contact Dundee City Council to arrange a special collection on 01382 436238 or click here for further information.  Dundee City Council will charge you for this service.  If you dump your items and we have to arrange for them to be removed, we will charge you.  Our costs are likely to be higher than the local authority's.
Dundee Starter Packs will accept donations of certain used household goods. Details can be found here.
If your item is still in a usable condition, you may be able to arrange for a charity to collect and reuse your item.  Alternatively you can take the items to your local recycling centre free of charge.