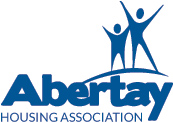 The Association has chosen WorldPay to manage the processing of payments through our website. WorldPay's e-commerce solutions are secure and easy to use.
With WorldPay you are provided with a variety of options for payment such as Visa, MasterCard, all the major credit cards and debit cards.
What if my card is refused?
Cards are not refused by Abertay Housing Association but by your bank or card issuer. There could be many reasons this may happen and we suggest you contact your card issuer in the first instance if you have a problem with your payment being declined.
Refunds
For all refunds due to an error in your payment amount please contact the Customer Services Team on 01382 903545 or customerservice@abertayha.co.uk We will deal with your query at the earliest opportunity.