Published: 19/09/14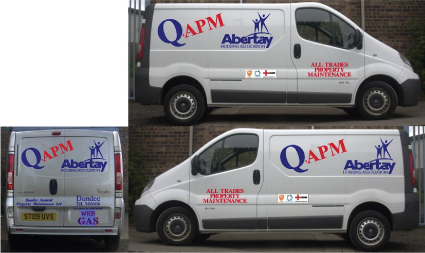 Abertay Housing Association are happy to announce that Dundee company QAPM Limited have been re-appointed as the main contractor for reactive and void maintenance works following a rigorous re-tendering process. The new contract starts on 6 October and is for an initial period of four years with an option to extend for a further two years.
Over the last four years, our partnership with QAPM has resulted in an increased level of customer satisfaction and dramatically reduced the time taken to complete maintenance works by using a core team of locally employed tradesmen and a QAPM supervisor located within the Abertay office.
Following a recent joint event with QAPM, an action plan has been drawn up to build on our success and to further enhance and improve our service to residents. One example of this is QAPM's commitment to offer two new apprenticeship places – one for a tradesman and one for an administrator. These will be advertised widely in the local area and applications from Abertay tenants and their relatives will be strongly encouraged.
Bob Sander, Operations Director for Abertay said 'Continuous improvement and value for money are key factors in what we do for residents to help demonstrate how we live up to our mission statement to enhance the quality of life in our communities. Reactive maintenance is the single most important service that we deliver and I am delighted to continue working with QAPM who share our aims and ethos'.
Bob Ward, Managing Director for QAPM said 'Our success in winning this contract with Abertay Housing Association is a testament to all the hard work and enthusiasm of our staff – both client and contractor. As a locally based contractor, with most of our staff living and working in or around Dundee, it was really important for us to deliver benefits for the local community and we hope the employment opportunity that the two new apprenticeship places offer will be popular.
&nbspBack to Archived News