Published: 11/10/23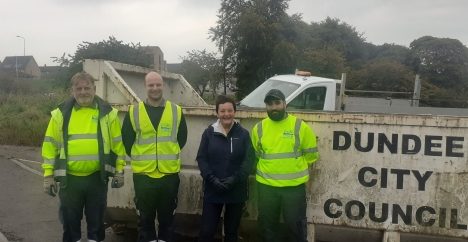 A Take Pride in Your City Community Clean-Up has taken place in the city's North East ward as part of Dundee City Council's ongoing environmental campaign.
The clean-up which took place in Mill O' Mains, Fintry and Whitfield this week is part of the wider Take Pride campaign which aims to make a difference to Dundee's neighbourhoods, parks and open spaces.
The three-day initiative saw council teams carry out additional works such as the removal of litter and debris, strimming from buildings, general tidying of communal areas where required and further sweeping to path & street areas.
Also in attendance were the Council's Environmental Compliance Team who carried out a Day of Action to take steps to reduce littering, litter resulting from poorly presented waste, and fly-tipping.
Climate, Environment & Biodiversity Committee Convener Heather Anderson said: "Under our Take Pride in Your City umbrella campaign, there are so many different initiatives taking place to make positive differences to neighbourhoods and for communities around the city.
"Through the Community Clean-Ups, Council staff continue to work with the local community to improve the condition and appearance of places based on the direct feedback the Service receives from the public.
"This collaborative approach is exactly what Take Pride is all about. There are many ways of working together to tackle issues such as litter, dog fouling, fly-tipping, graffiti and discarded chewing gum in our open areas."
The initiative has previously taken place in several areas of the city, with further Clean-ups planned for the future.
Information about upcoming Community Clean-ups is communicated directly with residents in the areas prior to taking place.
&nbspBack to Current News