Published: 05/04/12

Abertay Housing Association has formed a positive partnership with One Parent Families Scotland (OPFS), to co-ordinate and deliver services in the North Fintry area of Dundee, and which will be known as Families' House. This partnership project demonstrates the commitment of both organisations to provide services that support local families in community based settings and both organisations look forward to a long and productive partnership with shared aims and aspirations.
Abertay sees their mission as enhancing the quality of life in their communities, and when looking for a partner organisation to work with to create a facility to benefit families and children, they saw OPFS as an ideal choice.
OPFS has a long history of local service delivery to Dundee families, both lone and two parents, stretching back over 25 years, and they will provide space with a crèche provision to develop both group and individual work for adults and children. They can offer advice and support on a variety of topics, including parenting and family life, housing and benefit issues, training and employment, as well as supporting parents who are feeling isolated. This support can be provided on an individual basis, or within a group. Drop in sessions aiming to improve parent – child relationships by enabling them to enjoy positive play are open to all parents who have children aged from birth to 7years old, and will be held on Thursday mornings from 10.00 to 11.30 am.
OPFS also offer a Community Family Support Project and will use Families House to expand their work. Local parents and children, aged 5-10 years can join the evening family clubs on Mondays and Wednesdays, between 4 and 8 pm. Local Dads and male carers can join in Supporting Scotland's Fathers activities on Saturdays, and there will be Thursday afternoon sessions for local parents around making money go further, getting the happiness bug, and coping with employment issues.
For further information regarding the Families' House, please contact: Ann McKenzie on 01382 507688 or email: ann.mckenzie@opfs.org.uk
Lord Provost Letford officially opened the Families' House by cutting the ribbon at 11a.m on Friday 30th March.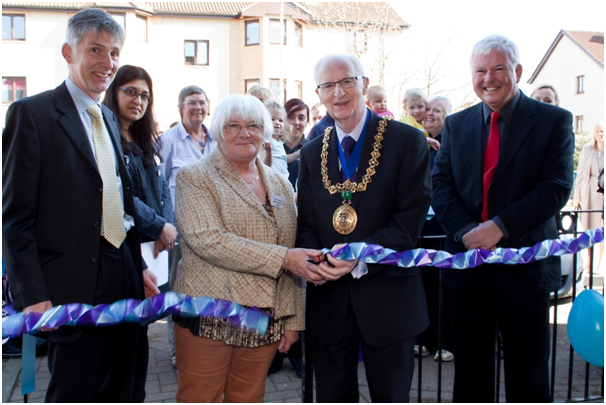 Picture shows Abertay's CE, Ian Thomson, alongside OPFS's Board Member Ann Kelsey, Lord Provost Letford and Abertay's Chairperson, Ken Dunn.
&nbspBack to Archived News