Published: 21/08/12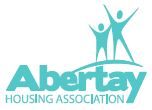 Abertay Housing Association's Staff Social Committee were recently delighted to hand over a cheque for just over £8,000 to locally based respite unit Glenlaw House in Dundee.
Abertay's Mission Statement: 'to enhance the quality of life in our communities' was very much at the forefront of its Social Committee members' minds when they chose this specific charity to donate to, following many months of fundraising activities.
Melanie Martin, Housing Officer and Social Committee Member said, "The reason we began fundraising for Glenlaw House was that the Committee wanted to make a real difference to a locally-based charity that had a big impact on children's lives". Robin Bell, Maintenance Officer and Social Committee Member said, "Some staff members have had friends whose children have previously benefited by visiting Glenlaw House and we felt we would like to give something back".
Melanie and Robin were assisted by third Social Committee Member, Liam Radford (Customer Service Advisor) in organising various activities including: sponsored walks, cake and candy sales, dress down days for staff, bacon roll Fridays and Race nights, to name but a few.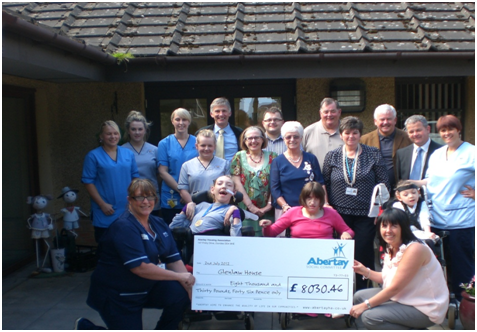 Melanie, Robin and Liam were joined by Abertay's Chairman, Ken Dunn & Chief Executive, Ian Thomson, as well as some other staff members, tenants and contractors who all had assisted them in their efforts, as they presented the cheque to Senior Charge Nurse, Christine Dempster.
Christine said "We were contacted by Abertay last year to inform us of their intentions and at that time they had hoped to raise in the region of £5,000. However we were amazed when they told us the final amount. The children will benefit greatly from this and we will use the money to buy a laptop and a touch plasma screen which the children can use. We will also be able to buy sensory equipment, new toys and books which will also greatly benefit the children here"
Ian Thomson, Abertay's Chief Executive said, "To raise so much for such a good cause is a fantastic achievement. I would like to add my thanks to our Social Committee for the fun events they organised, and for the generosity of our staff and contractors, and everyone else who contributed. I feel very proud to work with such great people."
&nbspBack to Archived News