Published: 20/05/21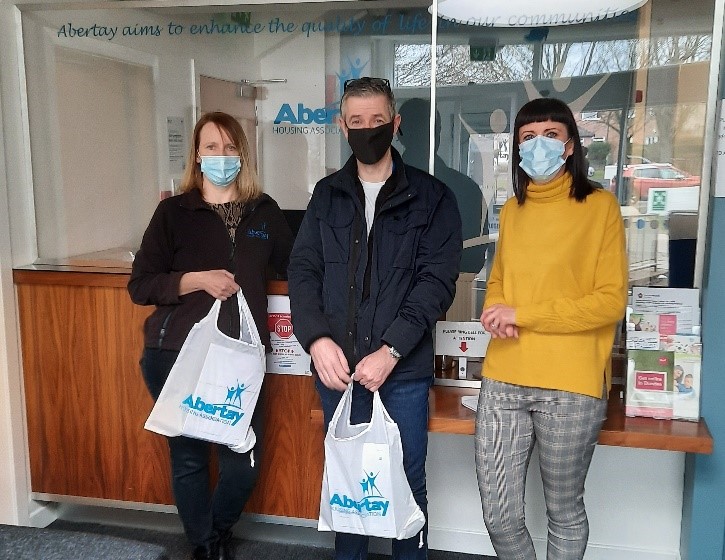 Abertay Housing Association has helped over 100 low income and digitally excluded households across Dundee to get online. Our mission statement is to enhance the quality of life in our communities and we have made some progress towards this by working in partnership with Connecting Scotland, a Scottish Government initiative managed by SCVO, set up in response to the COVID-19 pandemic.
Connecting Scotland aims to get 55,000 digitally excluded households online by the end of 2021 by providing them with an iPad or Chromebook, along with an optional MIFI device with up to 2 years unlimited free data. This enables them to build their digital skills and confidence.
In addition to our own tenants, we connected with our local schools, Dundee City Council's Throughcare and Aftercare Service, as well as local charitable organisation, Includem, who all work with young people in Dundee to transform their lives, especially during these difficult times. We look forward to continuing these relationships with any future projects.
Abertay's Chief Executive, Barry Moore said: 'Social housing is such an important sector in terms of digital inclusion and it has never been more critical for social housing providers to support their tenants to get online, therefore, we were delighted to be part of the Connecting Scotland initiative. Among the many challenges COVID-19 has presented, along with services increasingly moving online, ensuring our tenants have access to the information they need is vital. The internet continues to be a lifeline for many, making this initiative extremely important for those tenants to whom digital access would otherwise not be possible'.
Abertay's Digital Participation Officer and Tenant Involvement Officer, Linzi and Clare said: Abertay were really keen to be part of the Connecting Scotland project, and after the initial training and support, we recognised the benefits this project could bring to the local community and enhance the opportunities available to our tenants, by being online – an essential lifeline these days.
Linzi and Clare have both attended digital champion training to enable them to assist those who perhaps need ongoing or extra support and advice.
Just a small sample of the feedback we have received from the delighted recipients of the devices:

Thank you so much for my Chromebook! I have just face timed my parents in Spain for the first time.
Thank you very much, this is like a dream come true for us, we could never afford to buy anything like this!
I'm so excited about this – we've even drafted a rota so everyone in the family all get to spend their own time on the iPad!
&nbspBack to Archived News