Published: 21/03/22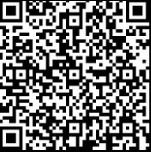 As we move slowly back to some form of 'normal' life, we are keen to hear from all tenants about the impact Covid-19 has had on your household, this will enable us to use your feedback to inform service design and delivery in the 'new normal'.
Your feedback and views are very important to us, please take a few minutes to complete our survey, by clicking on the link.
https://forms.office.com/r/Ha1GB2vU1y or scanning the QR Code below.
Alternatively, you may prefer to complete the survey which is being sent out in the post to all tenants and return in the pre-paid envelope.
&nbspBack to Archived News