Published: 27/06/12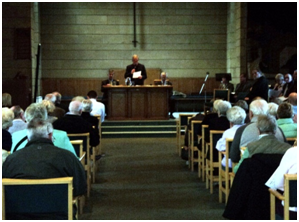 You are cordially invited to Abertay's 16th Annual General Meeting on Wednesday 12th September 2012 in Fintry Parish Church @ 6.30 pm
As in previous years, there will be a report from our Chairperson, along with the presentation of our Annual Accounts.
All Shareholders will have the opportunity to vote and stand for committee. We are a tenant led organisation and in order to maintain this we need more tenants on our Committee of Management. If you are interested in becoming a member, or would like to come along to one of our committee meetings as an observer then please let us know. Further information can be obtained by contacting our Chief Executive, Ian Thomson.
As most of you will no doubt be aware we like to follow the serious business of the evening with some light hearted entertainment; and this year is no exception!
We are delighted to welcome back our ever popular Versatiles who will enthuse the audience with a medley of Irish songs from past and present. The Versatiles will be accompanied by two 'special' guests and we do hope you will come along and join in the fun!!
Our renowned free prize draw and delicious buffet will finish off the evening and we very much look forward to seeing you all there.
&nbspBack to Archived News