Published: 07/09/23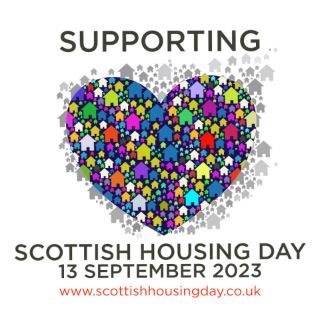 This year, for Scottish Housing Day, we are celebrating housing as a career.
So for this year, we want to celebrate the work of everyone who has made housing their career of choice, we want to establish even more ways that people can join this profession and we want the Scottish Government and other relevant agencies to play their role in communicating the value of a career in housing to ensure that housing is recognised as a career of choice and share our own stories here at the Association with everyone too.
I've worked in social housing for around 25 years. Most of my time has been spent working for a number of different housing associations and councils across the South of England – London, Brighton, Kent, and the West Country.
I ended up on this career path completely by accident! My working life started as a commercial fisherman in Kent. I moved around the south coast of England before wanting to change when I lived in Brighton. Having no idea what I wanted to do next, I signed on with a manual labouring agency, and was hired doing a range of manual jobs including road-sweeping, binman and then caretaker for some multi-story blocks owned by the council. This turned into a permanent position and my journey in social housing had started! Fast-forward 20 years and I am now relishing the different challenges of being a Housing Officer in Dundee.
Right from the start I learnt that no two days are ever the same, and I am always, always learning new things. I take great pride in my work and achieve much personal satisfaction by being able to help other people. It is by no means easy, but it's such an amazing opportunity to make a positive contribution to many people's lives.
For everyone considering a career in Social Housing, my advice would be 'GO FOR IT!'. There are so many elements you wouldn't immediately think of, like repairs, asset management, finance and so on. So there are many different routes a career in social housing can take you on. For me, it's the pleasure of meeting new people from all walks of life, using my acquired knowledge & skills to help them wherever I can. Put simply, each day I come to work I want to make a difference.
&nbspBack to Current News