Published: 13/09/23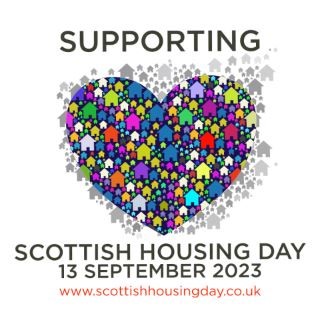 This year, for Scottish Housing Day, we are celebrating housing as a career.
So for this year, we want to celebrate the work of everyone who has made housing their career of choice, we want to establish even more ways that people can join this profession and we want the Scottish Government and other relevant agencies to play their role in communicating the value of a career in housing to ensure that housing is recognised as a career of choice and share our own stories here at the Association with everyone too.
Senior Housing Officer
We asked our Senior Housing Officer to describe 'the how and the why' she chose the path into a career in housing.
'The how was quite simple, I came into housing, on a three month temporary contract, and, still remain here after 20 years!
The why, is because every day still differs from the day before, it's never boring and even after this length of time, every day is still very much a learning experience.
Working for a community-based housing association, I cannot think of any other career where you have the opportunity to meet such a tapestry of colourful and diverse characters than as a housing officer out on the patch.
There is a huge amount of job satisfaction knowing you actually can and do make a positive difference to people's lives, whether that be handing over keys to a lovely new property, or resolving a neighbour dispute with a practical solution for all involved.
I came into housing later in life, having worked in banking and telecommunications prior to this.
I gained my postgraduate diploma in housing studies at Stirling University and this opened up a whole new world to me that I did not know previously existed.
The advice I would give to anyone coming into a career in housing would be people are always going to need houses -Start early!
There are so many areas of specialism in Housing: Technical, Housing management, Finance, Governance etc. Literally something for everyone, and yet it still somehow remains a hidden gem as a chosen career.
&nbspBack to Current News