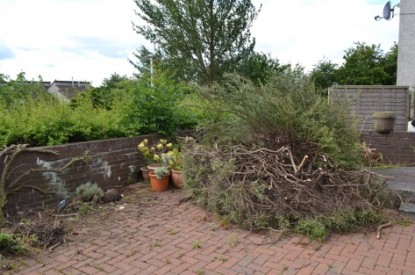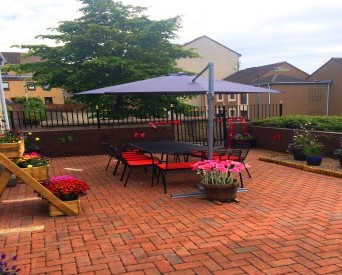 Abertay Housing Association successfully applied to the NHS Tayside Community Innovation Fund for financial resources to support and encourage community participation among residents from the Dykehead Place / Brougham Gardens area.
The funds made it possible to create a 'serendipity garden' to the rear of the Abertay Housing Association complex in Dykehead Place.
With a little encouragement from their Housing Officer, Heather Borland, the residents planned and executed a thoughtful strategy to enable them to transform an underutilised area in the middle of a busy thoroughfare into a serene garden.  The residents, many of whom are elderly now have a lovely safe place in which to sit, mix, relax, chat and enjoy.
Local residents Mr and Mrs Barron and Mrs Muir, along with the Scheme Manager, Mary Kelly, were instrumental in the plan coming together.
Many items were purchased from the allocated funding, which, along with lashings of elbow grease from local residents made this venture possible.
< Return to Community Activities